October 19 is the one year birthday of our new website and what better way to celebrate than to roll out its mobile readiness.
If you're in the field, and find that you need to order a part for the job you're working on, there's no need to call it in or wait until you're back to the office to order. Now you can order that part from your phone or tablet with ease. Just follow these simple steps.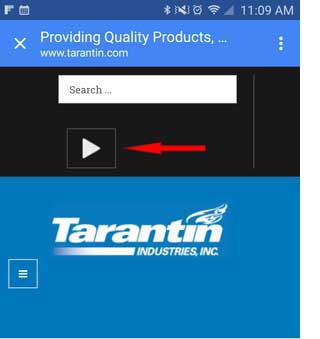 Ordering through Search Bar
Type the part number, or part name into the search bar (see image to the left).
Click the white arrow in the black box.
Scroll until you see the part you need.
---
Ordering through Category List
Go to www.Tarantin.com
Click the Square Box with the three lines in it (fig. 1 below). This will open up the navigation.
Scroll until you see Products (fig. 2 below), and click on it. This will bring you to the Product Category page.
Scroll until you see the category you need (fig. 3 below).
After that it's exactly the same as ordering through your computer. Our new website is like bringing your office with you wherever you go.
More blogs like this one
Like this Article? Why not Share!