Written by Andrew Bausman
With today's media savvy consumers both good and bad reviews can be posted in many more places than ever before. The Better Business Bureau used to be the single most important place for consumers to voice their opinions, but now with sites like Yelp and Google, business owners need to be more diligent in handling the reviews of their businesses.  You need to ask yourself "Is your company's reputation important?"
Regardless of the reviews, a timely response needs to be made to show that you care about your customers and your reputation. Some consumers' issues can be easily appeased and rectified. This not only makes the customer happy, but can make you aware of possible changes that may be necessary to minimize future complaints.
The bottom line is - you can't repair what you don't know, and likewise you also can't fix or praise individuals in your organization unless you know they're achieving. The longer a bad review remains open, the more damage could be done which can result in possible loss of sales from some prospective customers.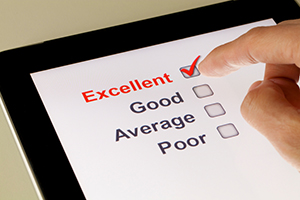 You can be proactive by directly asking your customers what they think of your company and its services by doing periodic surveys.  There are many ways to deliver a survey; from old school mailing to web based email surveys such as Survey Monkey (www.surveymonkey.com), or you can use Facebook (www.facebook.com/simple.surveys). If you are utilizing email marketing then then you already have a leg up by saving time and money, but you will also be able to quickly and easily format the data that comes back.
Regardless of the method, there are a few simple rules that will encourage consumers to respond.  Keep your survey simple and to the point. It should only take a few minutes to finish. Generally you should produce a survey no more than twice a year, but every new customer should be sent the survey soon after the sale/service has been completed.
Surveys provide one more reason to ask for customers' emails while showing them that you care about their opinion and your service.
Like this Article? Why not Share!
---
Andrew Bausman