Permasert 2.0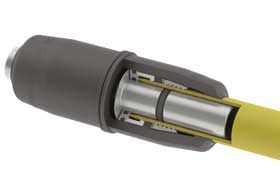 As you all know Perfection is changing over to the NEW 2.0 style. Fitting and Risers are now coming in the 2.0 version. Watch Honeywell's This Is Permasert 2.0
Are you ready for Permasert 2.0? Take a look at this quick install guide and installation video from Honeywell.
What changes come with the new design featuring ID and OD seals?
Easy installation in as few as 5 minutes with tools that fit in your pocket.
Get a permanent seal in nearly any weather or other dirty conditions.
Training takes only 1 hour, vs. 4+ hours for electrofusion and conventional fusing fittings.
Cleaner and greener: No power source needed, no noise, no pollution.
Faster Connections. Lowered Cost. Improved Performance.
---
Also, don't forget to order the new chamfering tools that work with the new Permasert 2.0.
---
More blogs like this one
Like this Article? Why not Share!