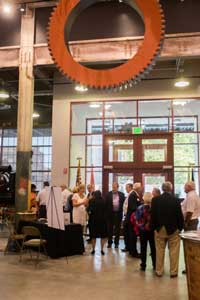 In September, Propane industry leaders came together to celebrate the newly opened National Museum of Industrial History and its featured interactive exhibit on the history of propane. Tom and Joan Tarantin, Frank Erickson, Rick Feiler, and Robyn Prasek of Tarantin in Freehold, NJ and Elizabethtown, PA was among the first to tour the exhibit in its first weeks open to the public.
The National Museum of Industrial History was created to preserve America's rich industrial heritage and to forge a connection between America's industrial past and the innovations of today. Set in the 100-year old Electric Repair Shop of the former Bethlehem Steel plant, the museum houses four galleries (iron, steel, silk and propane industries) whose themes showcase stories of local industry and their global reach.
The Propane Gallery explores the history of the industry from the discovery of the extraction process in 1912 to the latest technologies for producing the gas today. Visitors learn about this story by exploring artifacts, oral histories and interactive experiences. Highlights include one-of-a-kind artifacts from Gasol, the company started by propane inventor, Walter O. Snelling, and a virtual hot air balloon ride along the national propane distribution network.
In remarks to the gathered Propane industry group, Stuart Weidie of the National Propane Gas Association commented that, "Visitors to the museum will learn about the cleanest, most practical and modern fossil fuel known to man." The industry was bestowed another honor during the presentation in the form of a proclamation from Bethlehem's Mayor, Robert Donchez, marking September 10th as Propane Industry Day in Bethlehem.
"The National Museum of Industrial History anticipates an initial audience of more than 50,000 annually," said NMIH President & CEO, Amy Hollander, "including 15,000 school children, from the Lehigh Valley region of Pennsylvania and beyond."
About the National Museum of Industrial History
A Smithsonian Affiliate, the National Museum of Industrial History is dedicated to preserving America's rich industrial heritage. Restoring a 40,000-square- foot, 100-year- old former Bethlehem Steel facility on the largest private brownfield in America, the Museum is home to exciting exhibits, engaging programs and amazing history. The Museum's regular hours are Wednesdays through Sundays, 10:00 am to 5:00 pm. Ticket prices are $12 for adults; $11 for seniors, students, and veterans with valid identification; and $9 for children ages 7-17. Children 6 and under are free. More information can be found at www.nmih.org. For more information on NMIH please visit nmih.org or call 610-694- 6644.
More blogs like this one
Like this Article? Why not Share!