Written by Steve Watson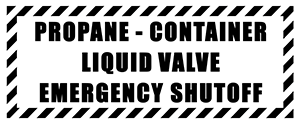 Take the time this summer to replace all the worn out signs on your trucks and bulk plants.  With just a little time and money you can give your company a much needed face lift.  Companies spend money on billboards all over town to advertise their services without realizing that they have a rolling billboard right in their parking lot, or spending a small fortune on paint and wraps on the trucks, but not spend a few dollars on the 1075 "Propane" and "No Smoking" signs.  If you have a bulk plant, take the time to ensure that you're marking the liquid and vapor line.
In our full-line catalog there's a section with a variety of decals and signs.  Whether you're trying to stay in compliance with Federal or State Regulations, or trying to advertise your cylinder filling or exchange stations, we have everything in our Sign and Decal section to set you apart from your competition.
Like this Article? Why not Share!
---
Steve Watson